For one week each year, a group of students from The University of Utah's Department of Mining Engineering embark on a journey to Death Valley. With experts from Rio Tinto Borates as their guides, they tap into the area's rich history of mining and gain real-world experience along the way.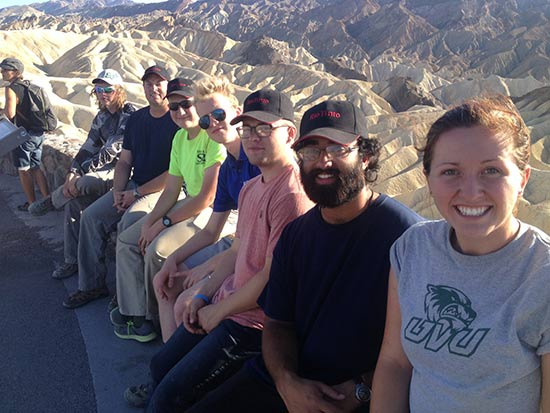 Fall 2017 field study participants with Nathan Francis.
From right to left: Kaleigh, Ross, Noah, Trevor, David, Nathan (Rio Tinto) and Mason.
About eight to 12 students participate in the trip annually. They tour California's largest open-pit mine in Boron, survey and document mine closures within Death Valley National Park, and stay in historic Ryan Camp. The former borate mining camp is now owned and operated by the Death Valley Conservancy.
"Rio Tinto is a world-class mining company," said Jeff Johnson, an associate professor of mining engineering and the fall 2017 field study chaperone. "It's a big deal to help them, and to have them educate us about mining."
Hands-on fieldwork in Death Valley
Traveling in pairs, student participants spend two of their days trekking across Death Valley's remote desert terrain. It's like a scene from the mining days of 100 years ago — with a modern twist.
Using GPS units, they scout coordinates of previously closed mines and investigate the safety of other found mines in Twenty Mule Team Canyon. Rio Tinto provides equipment to keep them hydrated and safe, including high-visibility vests, radios, water, baseball caps, sunscreen, and whistles.
"The experience allows the new generation of mining students, or miners, to get a greater understanding of the legacy the mining industry has in our country," noted Nathan Francis, land manager at Rio Tinto. "We expose them to legacy sites and the liabilities companies still have once mines close. It also gives them an opportunity to see how far we've progressed and the skills it took for miners to locate a mineral deposit and access it in the past."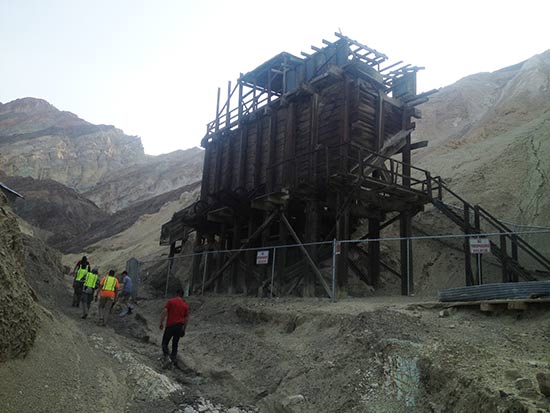 Students from the fall 2017 field study walk up to an old mine with its wooden ore storage bin.
The fall 2017 group documented more than 100 mines. One pair of prospective miners even uncovered an open adit, or surface passage, and open shaft on their second day in the field.
"Experiencing Death Valley and the fieldwork exceeded my expectations," said Ross Chapin, a senior in mining engineering. "Finding an open shaft and adit was quite the surprise. Even beyond the two openings, it was great to see just how many shafts and adits were driven in Twenty Mule Team Canyon."
Uncovering more than mines
Spencer Evans, mine operations supervisor at Rio Tinto, knows firsthand the excitement of being a student on the trip. He participated in a past Death Valley field study and now leads the tour of the Boron site.
"As a student, I was interested in seeing where young engineers were working and what they were doing," Evans said. "I like to help students understand the opportunities in the mining industry and where they can go in their careers."
He added he also enjoyed learning about the company's history, culture and community involvement — a sentiment largely echoed by the 2017 participants.
"We were very grateful, as a group, to have this opportunity with Rio Tinto to explore Death Valley," said Kaleigh Mutch, a senior in mining engineering. "The whole experience was a lot of fun and very interesting. It is always important to me to gain experience with mining processes, history and professionals in the industry."